Top Story
Hawaiian Airlines has grown to serve more than 10 million passengers annually, making it the largest and longest-serving carrier based in the 50th state. And Hawaiian shows no sign...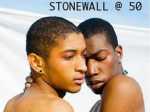 To mark the 50th anniversary of Stonewall, Drexel University presents an exhibit of 60 Philadelphia-based LGBTQ artists in celebration of the event. EDGE spoke to curators Janus Ourma & David Acosta about the event.
Montana's House speaker and other Republican lawmakers are criticizing Democratic Gov. Steve Bullock for flying the gay pride rainbow flag instead of the state flag over the weekend.
The American Psychoanalytic Association (APsaA) has apologized publicly for its previous classification of homosexuality as a mental illness, saying its mistakes contributed to discrimination and trauma.
PrideFest took over Boystown in Chicago for two days on June 22nd and 23rd, leading up to the Pride parade the following weekend. Vendor booths, live music and unpredictable weather were all part of the rainbow of fun.
Many details of what happened at the Stonewall are enveloped in differing perspectives, disputes and the uncertainty of half-century-old memories.
Gay Pride Around the World