Buttigieg's Campaign Still Struggling to Connect with African-American Voters?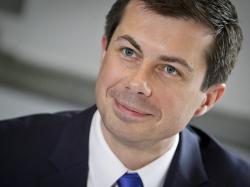 Pete Buttigieg's campaign has struggled to reach African-Americas voters, and despite the candidate's efforts at outreach - including a bold plan to tackle racial inequities if he should be elected president in next year's election - that audience has seemingly eluded him thus far, media reports suggest.
That disconnect was reinforced at a recent campaign event Buttigieg attended in the historically African-American Chicago neighborhood of Bronzeville - an event that was, noted the Chicago Tribune, mostly white.
Just a week ago, NBC News reported that religious African Americans might find his candidacy presented a dilemma. Buttigieg is openly gay, and though he has expressed confidence that America as a whole is ready to move beyond homophobic stereotypes and embrace an LGBTQ president, the religious African-American community might be a hard sell.
A South Carolina religious and political leader, and Episcopal pastor, named joe Darby acknowledged to NBC that it would be a "heavy lift" for many in his church to support an openly gay candidate.
"Just as nobody who is racist likes to say, 'I'm a racist,' nobody who is homophobic in the black community likes to say, 'I'm homophobic,' " Darby said.
The question has perhaps been further complicated by Buttigieg's relative lack of name recognition until recently. Unlike many of the other Democratic contenders seeking the nod to run against Donald Trump in 2020, Buttigieg had little or no presence on the national political stage. His experience in office thus far has been as the mayor of South Bend, Indiana - itself impressive in that he was re-elected to the mayorship of a city in Mike Pence's home state even after coming out to his constituents.
Then there is the recent police shooting of an African-American man in South Bend. According to the city's police department, a man named Eric Logan refused to drop a knife when ordered to do so by an officer. When Logan threw the knife at the officer, he was shot and killed.
The tragedy prompted Buttigieg to suspend his campaign briefly and return home, where he faced the anger of his city's African-American residents, who critiqued him for the city lack of minorities in the ranks of the police. As NPR noted:
The racial divisions in South Bend are not new ones and did not start under Buttigieg, but they are making it harder for Buttigieg to try to win over voters of color who aren't very familiar with him in the first place.
To prove he is serious about addressing systematic racial inequities, Buttigieg released a plan last month that is intended to address those problems.
The New York Times reported that Buttigieg's plan includes strategies to reduce lethal use of force against African-Americans by police, including the establishment of a database that would track officers that had been fired so that they could not simply move elsewhere and get back into uniform. But the plan addressed other areas of concern, such as reforming sentencing and prison procedures and abolishing the death penalty, all of which critics say affects African-Americans disproportionately.
Even so, Buttigieg does not yet seem to be gaining significant ground with African-American voters. For progressives, who see 2020 as a do-or-die moment, that could be worrisome. To what degree that might or might not factor into his chances for winning the Democratic nomination, however, is something that only time will tell.
Kilian Melloy serves as EDGE Media Network's Assistant Arts Editor. He also reviews theater for WBUR. His professional memberships include the National Lesbian & Gay Journalists Association, the Boston Online Film Critics Association, The Gay and Lesbian Entertainment Critics Association, and the Boston Theater Critics Association's Elliot Norton Awards Committee.
Comments on Facebook