Top Story
Essence has declared out singer/actor/director Billy Porter to be a "national treasure," and makes its case in a feature article in the current edition. Porter is the fir...
1 thru 10 of 53673 Stories
ABC News reporter James Longman announced last week that he is engaged.
YouTube will no longer allow out vlogger Shane Dawson to make money from his three channels, which have 34 million subscribers between them, following controversy that includes blackface and much more.
The prison inmate who claims to have been Aaron Hernandez's prison lover is speaking out about their relationship, alleging the "former football star was his 'right hand man' and that they 'did everything together.'"
Hugh Downs, the genial, versatile broadcaster who became one of television's most familiar and welcome faces with more than 15,000 hours on news, game and talk shows, has died at age 99.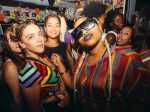 "The outpouring of love and donations on the various platforms has been incredible. But we need continued support until we reopen," says Henrietta Hudson owner Lisa Cannistraci. "I'm not going to lose the bar. I'm not going to let it happen."
The number of confirmed coronavirus cases in the U.S. climbed to an all-time high of more than 50,000 per day on Thursday, with the infection curve rising in 40 out of 50 states in a reversal that has largely spared only the Northeast.
The Supreme Court is denying Congress access to secret grand jury testimony from special counsel Robert Mueller's Russia investigation through the November election.
British socialite Ghislaine Maxwell was arrested by the FBI on Thursday on charges she helped procure underage sex partners for financier Jeffrey Epstein.
White House counselor Kellyanne Conway's teen daughter is going viral on the social media video app TikTok for directly opposing her mother's boss: President Donald Trump.
A gay employee at a Miami Beach restaurant was threatened and brutally assaulted in what police are calling an "anti-gay battery" - and then, adding injury to injury, reportedly found himself fired from his job.
1 thru 10 of 53673 Stories