Top Story
Representatives of the Buddhist, Hindu, Jain, Jewish and Christian traditions have formed an improbable alliance to end the practice of using sacred Buddhist and Hindu statues as d...
1 thru 10 of 15866 Stories
YouTube will no longer allow out vlogger Shane Dawson to make money from his three channels, which have 34 million subscribers between them, following controversy that includes blackface and much more.
The Los Angeles City Council on Wednesday approved a makeover of its widely criticized marijuana licensing program to enlist more operators who endured the consequences of the nation's war on drugs.
The oil-wealth check, which some in Alaska see as an entitlement, typically is derived from the earnings of a nest-egg investment account the state has seeded with oil money.
U.S. employers likely rehired several million more workers in June, thereby reducing a Depression-level unemployment rate, but the most up-to-date data suggests that a resurgent coronavirus will limit further gains.
President Donald Trump has fabricated a complaint that Democratic rival Joe Biden was fed questions at a news conference and read his answers from a teleprompter. This didn't happen.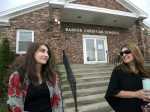 A Supreme Court decision that states can't cut religious schools out of programs that send public money to private education could support efforts to force Maine and Vermont to help fund religious educations.
A group of former George W. Bush administration and campaign officials have launched a new super PAC supporting Democratic presidential candidate Joe Biden.
Immigration judges said in a lawsuit filed Wednesday against the U.S. Department of Justice that they are being muzzled by the Trump administration.
President Donald Trump is asking Americans to let him keep his job. His critics are questioning how much of that job he's actually doing.
Democratic Senate nominee Amy McGrath challenged Senate Majority Leader Mitch McConnell to disclose what he knows about intelligence assessments suggesting Russia offered bounties for killing U.S. troops.
1 thru 10 of 15866 Stories