Top Story
A judge appointed a special prosecutor to investigate the decision by Cook County prosecutors to dismiss all charges against actor Jussie Smollett.
1 thru 10 of 48444 Stories
Arlington County has indicated it will set out more concrete rules surrounding the rights and protections of students based on gender identity.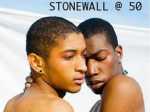 To mark the 50th anniversary of Stonewall, Drexel University presents an exhibit of 60 Philadelphia-based LGBTQ artists in celebration of the event. EDGE spoke to curators Janus Ourma & David Acosta about the event.
Montana's House speaker and other Republican lawmakers are criticizing Democratic Gov. Steve Bullock for flying the gay pride rainbow flag instead of the state flag over the weekend.
Tourism in a small Virginia town has suffered little in the year since The Red Hen restaurant famously refused to serve President Donald Trump's spokeswoman, Sarah Huckabee Sanders.
The American Psychoanalytic Association (APsaA) has apologized publicly for its previous classification of homosexuality as a mental illness, saying its mistakes contributed to discrimination and trauma.
Residents of the Coquina Key Condominiums, where Robin Chipman lives in St. Petersburg, Florida, are allowed to put up flags in support of their favorite sports teams... but, apparently, not in support of their LGBTQ friends.
A private high school is firing an educator to avoid having its ties cut with the Archdiocese of Indianapolis.
Top Australian rugby player Israel Folau managed to scuttle his career by posting anti-LGBTQ messages on social media in violation of sport policies. Now GoFundMe says he violated their standards, too - and have yanked his page.
Authorities around the French capital have issued an orange alert for intense heat — the second-highest level on its scale — as very hot temperatures are expected across continental Europe this week.
Many details of what happened at the Stonewall are enveloped in differing perspectives, disputes and the uncertainty of half-century-old memories.
1 thru 10 of 48444 Stories