Top Story
Keith Lockhart has been conducting the Boston Pops Fourth of July Spectacular for the past 25 years since taking over the orchestra from John Williams. EDGE spoke to the conductor ...
Following in the footsteps of Alabama Public Television, Arkansas Educational Television Network announced that it did not air the premiere episode of "Arthur" Season 22 because it features a gay cartoon character marrying his partner.
On last week's "Saturday Night Live," host Paul Rudd teamed up with Pete Davidson to rap about their favorite TV shows, including "Grace and Frankie."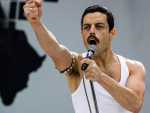 The advocacy organization GLAAD says that LGBTQ representation is up for major studio films released in 2018, but that none included transgender characters.
Rihanna, the first black woman in history to head up a major Parisian luxury house, is unveiling her first fashion designs for Fenty at a pop-up store in Paris.
Fans of 'The L Word' rejoice! The iconic series about a group of lesbian friends that ran for six seasons on Showtime and concluded in 2009 is slated for the sequel treatment in the form of a miniseries: "The L Word: Generation Q."